Thank You For Your Cooperation Meaning
Thank you for your cooperation is used most often in the corporate environment. It expresses gratitude for working together and for the successful partnership you have built with a person/company. Most often, the phrase "thank you for your cooperation" can be seen at the end of business correspondence. The correspondence itself can refer to an announcement for a new service, meeting, or new prices. Also when leaving a job, telling a customer that you are leaving a co-op, etc. There are many examples of when you might use the phrase.
Thank you For Your Cooperation Alternatives
1. Thank you for your understanding!
When someone uses this phrase, it's usually when they've done something wrong and the other party is fine with it and they respond with "Thank you for understanding!"
2. Your cooperation means a lot to us!
This phrase is used when inviting people to take part in a project and it's important for them to tell the participating person how their cooperation is appreciated.
3. Thank you for your continued cooperation!
The phrase is often used at events such as conferences or in conversations with customers and guests so they feel important.
4. Thank you for your partnership!
The sentiment of this phrase is similar to the sentiment of a "thank you" but it is different in that it also conveys gratitude for a business partnership.
5. We thank you for your patience and cooperation!
It is a phrase that is used in formal communication to show gratitude. It is usually used when something is not presented and you need thanks for the other person's patience. For example, when a customer has made a purchase and it has not yet been delivered.
6. Thank you for your fruitful cooperation!
"Thank you for your fruitful cooperation" is a phrase that is often used in a work environment when two parties have reached an agreement or completed a project. It is used as a sign of appreciation for the other party's contribution and as a way to thank them for their hard work.
7. We thank you for the opportunity to have such successful cooperation!
It is a phrase that people use to appreciate their partner's help. The person who says it is acknowledging their partner's hard work and effort and thanking them for it.
8. Thank you for the ongoing support. This means a lot for our prosperous partnership!
The phrase also stresses the commitment to maintaining a healthy working relationship. The phrase can be used in a corporate environment as well as a personal one.
9. Thank you for your kind cooperation and understanding!
It is a phrase that is used to thank an individual for their cooperation and understanding in regard to a given situation or issue. It is usually said at the end of an email or letter as a response to one's gratitude for help or understanding, typically in relation to some difficulty that has been overcome.
10. We're thankful for your support and understanding!
This phrase is usually said to express gratitude. It implies that the speaker appreciated the person who was able to give support or understanding during a difficult time.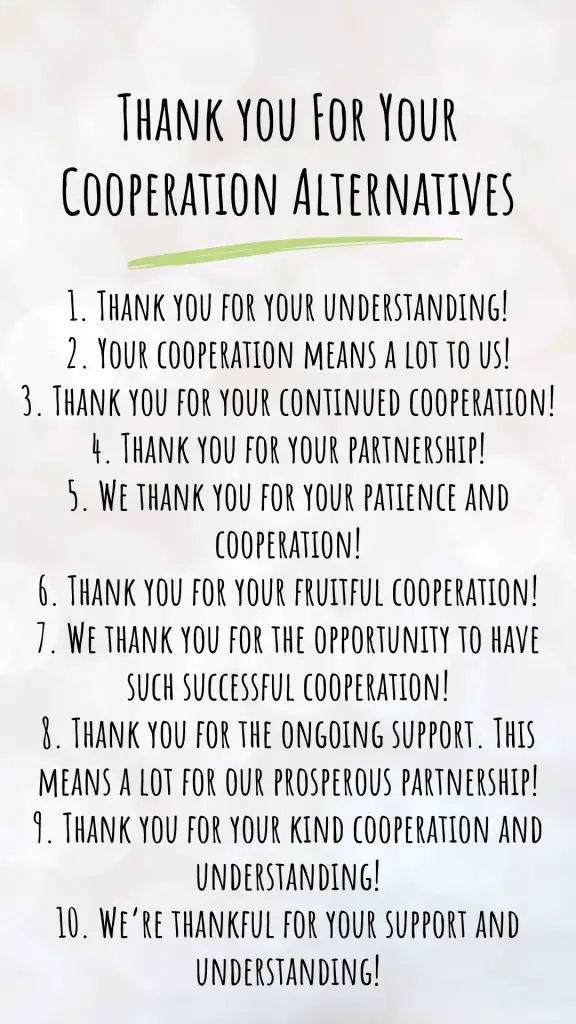 Sample Emails
EXAMPLE 1
Dear Team,
Due to the new team structure, I will no longer be responsible for your account. Today I have handed over all topics and tasks to your new Account Manager. He will be your new contact person.
I would like to thank you for the good cooperation and wish you all the best.
Kind regards,
(NAME)
EXAMPLE 2
Dear Customer,
Thank you for choosing (COMPANY NAME) for your journey in the Cloud! We are here to answer your questions so please feel free to reach out to us, by replying to this e-mail or contacting your account manager directly.
We look forward to partnering with you. Welcome aboard!
Thank you,
(NAME)
EXAMPLE 3
Dear Customer,
Thank you for your query. It has been forwarded to the relevant team. In the meantime, please do not hesitate to ask any other questions. We are always happy to help!
Thank you for your cooperation and Warm Regards,
(NAME)
EXAMPLE 4
Dear Customer,
The following order has been placed.
Thank you for your cooperation!
Kind regards,
(NAME)
EXAMPLE 5
Dear Customer,
I want to assure you that the request has been escalated with the supplier and is of high priority now. I will immediately get back to you with an update as soon as I have further details available.
Thank you for your understanding and cooperation!
Regards,
(NAME)
EXAMPLE 6
Dear partners,
Thank you for your cooperation and support over the past year. We sincerely wish you a Merry Christmas and a Happy New Year 2022!
Kind regards,
(NAME)
EXAMPLE 7
Dear Team,
It's been 9 years in (COMPANY) and it's time to say Goodbye.
Thank you all for your cooperation and assistance over the years.
Regards,
(NAME)
EXAMPLE 8
Dear Team,
We successfully completed the project.
Thank you all for your cooperation!
Kind regards,
(NAME)