Have you ever been named as the person who has to collect money for your colleague's birthday? If so, the easiest way to communicate to all colleagues in the office is to write them an email. Below you will find the best emails that you can send.
Casual emails
EXAMPLE 1
Hello colleagues,
Our dear colleague (NAME) has a birthday this Tuesday. Anyone wishing to give money for a gift can find me at my desk. We decided to collect $ 10 each. We have not yet chosen a gift, so I accept any suggestions.
EXAMPLE 2
Dear colleagues,
On May 12, our beautiful and beloved colleague (NAME) will celebrate her anniversary. We have prepared a huge surprise for her, but for this purpose, we need to collect money. I ask you to give as much as you want, but the more, the better 🙂
EXAMPLE 3
Hey, colleagues,
(NAME) has a birthday next Monday. We have organized many things to eat such as muffins, cake, ice cream and of course champagne. My request to you is to give me $ 5 each so that we have the money to buy everything.
EXAMPLE 4
Hello colleagues,
Our colleague (NAME) has a birthday on May 13th. She will not be in the office, but I suggest we leave her a small gift to see when she returns. I will collect the money, so please anyone who wants to get involved to leave money on my desk.
EXAMPLE 5
Hello all,
This Friday (NAME) celebrates his/her birthday. We will make him/her happy by giving a gift. You can give me your money every day from 9 am to 5 pm. If you don't find me at the desk you can leave them and let me know on Teams.
EXAMPLE 6
Our boss will celebrate her 40th birthday this Friday. In order to make her continue to be so kind and cordial to us, we will have to make her day special 🙂 So I will ask you to leave $ 5 on my desk.
Funny emails

EXAMPLE 1
'' Happy Birthday! '' we will tell to our colleague (NAME) tomorrow at 1 pm. But before that, please give me $ 10 so we can buy her a smart speaker that she's been talking about for a long time. Prepare the fireworks and we will explode tomorrow at lunch time.
EXAMPLE 2
Guess who has a birthday this Wednesday? Our sales guru (NAME). In order to make him continue to contribute with the same enthusiasm, we will organize a glamorous celebration for his birthday. I ask anyone who wishes to participate to go through my office to leave money for a gift.
EXAMPLE 3
And here I am again collecting money for our crazy colleague (NAME). As she manages to entertain us every day, so let's show her our crazy side on her birthday. I'm waiting for your money in a suitcase on my desk.
EXAMPLE 4
Our dear colleague (NAME), who make us happy with her presence for already 5 years, has a special occasion to celebrate – her birthday. And for another 5th year, I ask you to take $ 10 out of your pocket. The new car can wait a little longer, so I'm waiting for the money at my desk until tomorrow morning.
EXAMPLE 5
I have the honor of being a banker again for a day. This time the occasion is the birthday of (NAME). As she tolerates us every day, let us honor her holiday. Please give me $ 5 each. Thank you in advance.
Interesting ways to collect money:
1. In a box on your desk with a sheet in which everyone who has left money can write their name;
2. In an envelope, to go around all colleagues, and anyone who has left money to write his name on the envelope;
3. Make a Teams meeting with all colleagues and make a table with the names of all who should give money. As soon as one of them gives the money, click Edit on the list and make a tick.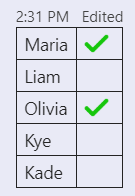 Below in the message you can add an interesting GIF for a birthday.