In this post you'll find everything you need to know about the phrase "Great job, team" – when to use it, what other alternatives you can replace it with and what other ways you can show your appreciation to your team.
When to Say "Great Job Team"?
When the team you lead has successfully tackled a project, or task or simply done a great job. You can also show appreciation when you're part of the team rather than leading it.
The phrase is used right after the work is done and you can say it verbally in front of everyone or send one general email where you thank the whole team.
Short Alternatives to "Great Job Team"
1. I couldn't be prouder of you.
And it can also be spelled "I couldn't be more proud of you." In both cases, it is grammatically correct.
2. Congratulations on making this possible!
This is a great phrase to start an email describing your gratitude to your team. It can also be used as а subject line.
3. Thank you all for your amazing work.
This expression emphasizes that the work has been done to the best of the team's ability and that you are satisfied with the end result.
4. I'm extremely proud of all of you.
This expression can only be used by a leader. It shows that the team has exceeded your expectations and you are extremely proud of what they have achieved.
5. We're making an impact!
Or in other words, it could be interpreted as "Your efforts made a meaningful impact that will not go unnoticed."
6. Keep up the great work!
With this phrase, you are saying how great a job your team has done, but at the same time, you are telling them to continue in the same spirit.
7. You did a phenomenal job!
It's a great compliment to show your appreciation.
8. It's so great to have you on my team.
We can say this directly to someone involved in the project. Anyone who hears this phrase will feel satisfied with their work.
9. Each of you has shown fantastic work.
Another great compliment to encourage project participants and inspire them to keep giving their best.
10. Congrats on another successful project!
Clearly, this is another successful project and should be congratulated!
Extended Ways to Show Appreciation to the Team
1. Just wanted to say thank you for your hard work. You guys did a great job on the campaign and I can't wait to see our next success!
---
2. Great job, team! We are thrilled with this success and wanted to thank you for your contribution.
---
3. I just wanted you to know that I highly appreciate all the hard work and dedication you put in every day.
---
4. Thank you so much for all your hard work. I'm looking forward to hearing about more successes!
---
5. Great work on that last project. It looks like we're making some great progress!
---
6. Each of you is taking a very important part of the team and I want you to know how much I appreciate what you bring to the table.
---
7. I just wanted to take some time to recognize how much I appreciate how hard you all work to keep this team running.
---
8. You are all such talented individuals who bring their own unique perspectives, ideas, and skills with you. We've really seen that shine in this process and it has made our company better.
---
9. I'm really proud of you all. Please take tomorrow off and enjoy yourselves, we'll be going out for drinks at 8 PM to celebrate.
---
10. You did a fantastic job on that project, it's just what we needed to get the ball rolling. Keep up the good work!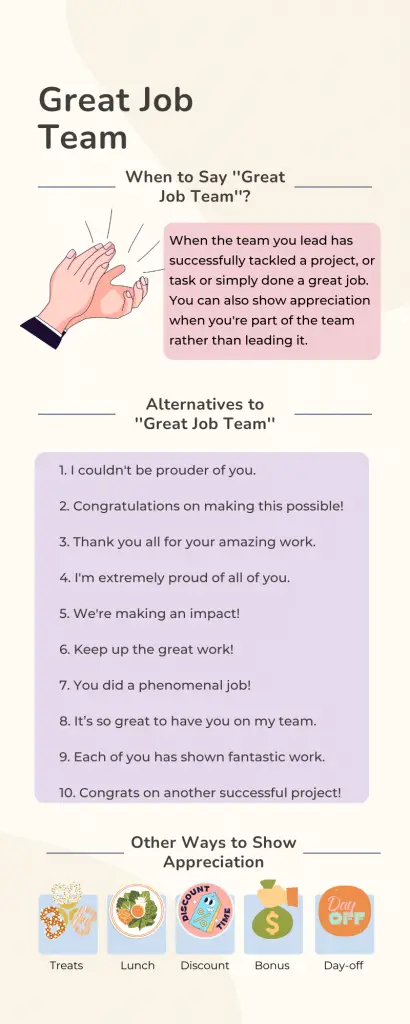 Other Ways to Show Appreciation
Sometimes words alone aren't enough and you need to loosen your pocket. Financial encouragement is always welcome. Every team member will be happy with any kind of extra reward. Here are some ideas on how to make your team feel appreciated:
1) treat your team with champagne, muffins, or homemade candy;
2) take them to lunch
3) give them a discount on your company's products
4) give them a bonus
5) day off
Conclusion
It won't hurt to show your satisfaction to your colleagues when they have done an excellent job with a task. On the contrary, you will motivate them even more.

You can say "Great job, team" at the end of a job/task or at any time during its completion. And apart from this phrase, you can use any of the others mentioned above.