When you go to work it's great to hear an expression like "Have a good day at work" combined with a short wish. That way, you lift your spirits and your day will be more productive.

Most often these wishes come from our dearest people like spouses, parents, friends, or even colleagues. Every day you need to raise your spirits, so let's start it off with a wonderful wish. In this article, you will find 50+ best ways to say "Have a good day at work".
Have a Good Day at Work Wishes
1. I hope your day is filled with funny moments and your work goes smoothly.
2. It may be work, but let it be filled with pleasure, pleasant conversations, and positive emotions.
3. May your day be brightened with cheerful colleagues and easy tasks.
4. I wish you smooth work, less pressure, and only cheerful clients.
5. Have a great time at work! And may your boss be more favorable today.
6. It may be unpleasant to go to work every day, but think if you had to stay at home all day. I wish you a happy time at work!
7. May your day be filled with positive emotions and you make lots of new sales.
8. I hope you attract customers like a magnet.
9. Less angry customers and more revenue I wish you in today's working day.
10. I wish you lots of productivity and less work today.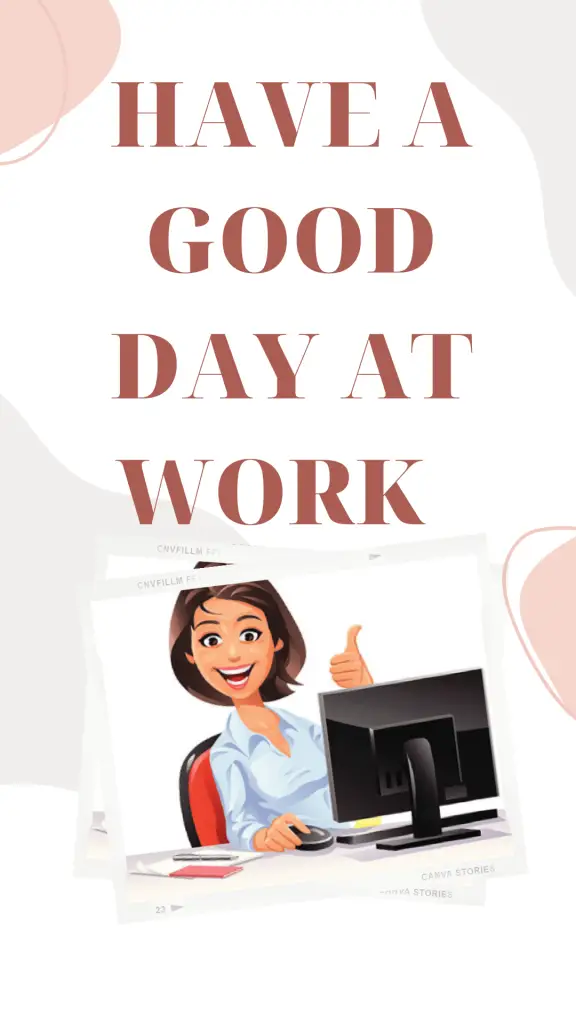 Funny Have a Good Day at Work Messages
1. Forget about your work today, let's watch Netflix all day.
2. I'm the one who's been getting on your nerves all day so enjoy your hours at work.
3. Life is stressful enough, don't stress too much at work. Have a nice day!
4. You have a long working day ahead of you, so enjoy your last minutes of freedom.
5. We wanted to wish you a great day at work with this funny GIF. We hope your week gets better from here and if it doesn't, we hope this cheers you up.
6. Just to remind you that it's still Monday! Nevertheless, I wish you an awesome day.
7. You know what they say, when life hands you lemons, make lemonade. When work hands you nasty tasks, go grab a coffee.
8. Have a good day at work! Hope you catch up on some sleep there.
9. Forget about work, forget about anything else – just lay back and enjoy your day.
10. I wish you all the best at work today! I pray that your day goes smoothly without any escalations.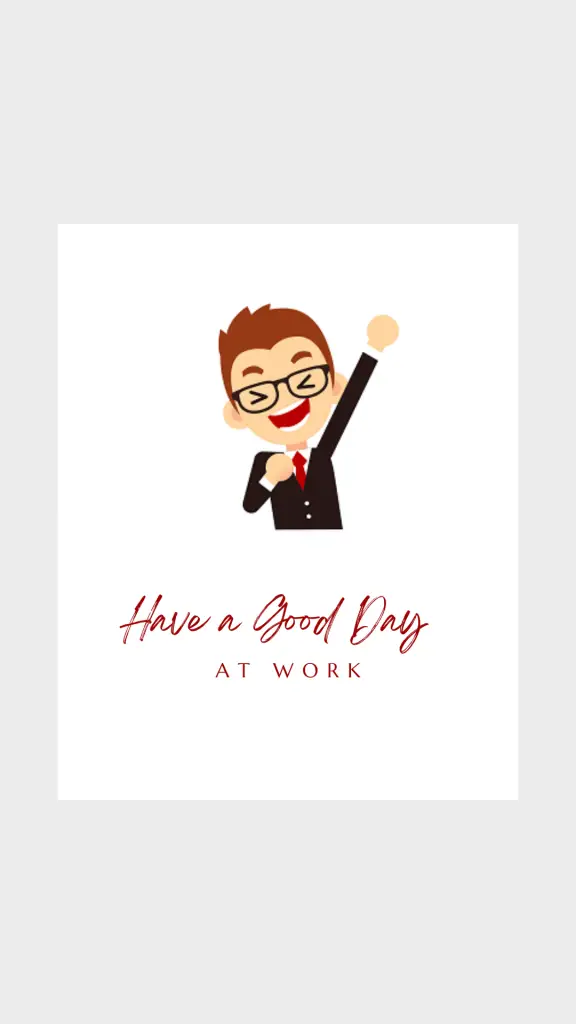 Hope you Have a Great Day at Work
1. Just wanted to say have a good day at work.
2. Hope you have a great time at work and make a lot of progress on your projects.
3. Your mental health is important so please take breaks from time to time.
4. I just wanted to say that I hope you have a fantastic day at work today and wish you the best.
5. If you're having a rough day at work, remember that I'm waiting for you at home.
6. Have a great day at work and remember it's Friday today!
7. I just want to say to keep up with the good work and wish you a very good day at work.
8. I just wanted to say that I wish you luck on this day and that you will be in my prayers.
9. Your boss is lucky with an employee like you. Hope a have a great day at work!
10. I just want to send you a quick little note to wish you all the best in your day ahead.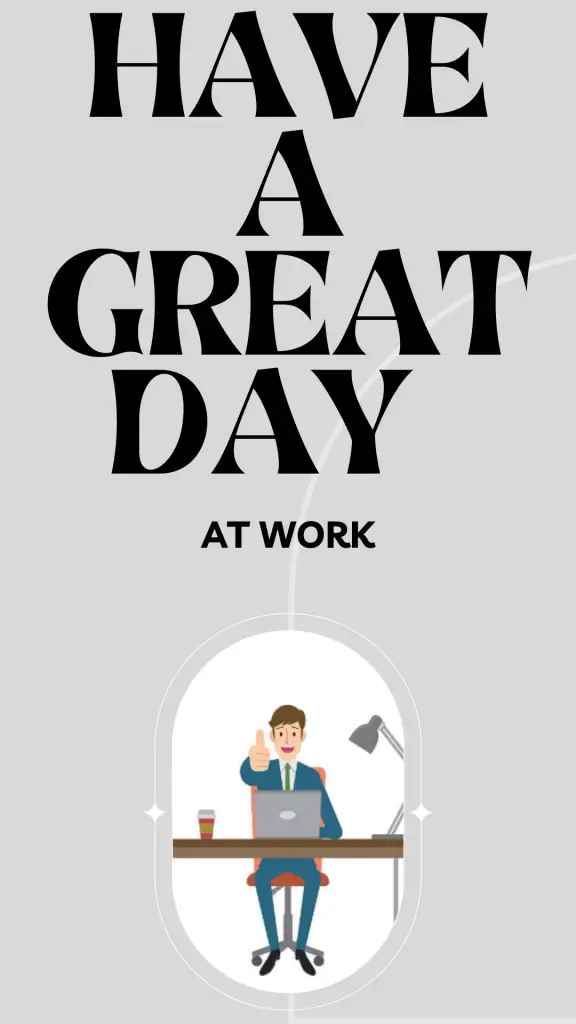 Happy Work Day Messages for Colleagues
1. Just wanted to let you know that I value your help in recent days and appreciate all your support! Have a great day at work.
2. You're making the day greater by being a part of it. Have a wonderful day!
3. Have a great day to the most supportive colleague that I have.
4. Take the time to enjoy your day, because we only live once!
5. Thank you for all the help you've given me and for lending an ear whenever I need it. I wish you have a great working day!
6. I'm so lucky to have a colleague like you! Thank you for everything and hope you have a great day!
7. I hope you're having a great day, I wanted to take the time to thank you for being such an amazing, supportive colleague.
8. I know that the last few days have been tough for you, but I'm sure that today is going to be an amazing day.
9. I can't fully express how much it means to me that you are always there for me when I need support. And I just wanted to say thank you and wish you a wonderful day!
10. I hope that your day is going well, take care of yourself.
Alternatives to Have a Great Day at Work
1. Cheerful morning and day!
2. Have a productive day!
3. May your day be profitable!
4. Hope you have a successful day!
5. Wishing you a prosperous day!
6. Have a funny Friday!
7. Have a blessed day!
8. Hope you have delightful moments today!
9. Have a peaceful day and week!
10. Have a cheerful day at work!
Motivational Quotes to Start Your Working Day
1. ''What worries you masters you.'' – Unknown
2. "For any movement to gain momentum, one must start with a small action." – Adam Braun.
3. "Success seems to be connected with action. Successful men keep moving." – Conrad Hilton.
4. "When you turn 60, the key is to not stop moving. Once you start to stop moving, you rust. You got to just keep going." – Christie Brinkley.
5. "Things aren't always easy, but you just have to keep going and don't let the small stuff bog you down."– Stella Maeve
6. "Courage is a self-inflicted quality that gains momentum step by step every time you try it." – Jeffrey Gitomer.
7. "The only thing to bring momentum that overcomes hard luck is hard work." — Harry Golden.
8. "Each morning we are born again. What we do today is what matters most." – Buddha
9. "Just keep going. Everybody gets better if they keep at it." – Ted Williams
10. "The most effective way to do it, is to do it." – Amelia Earhart
Conclusion – Start a Cheerful Day at Work!
We live in a world where we associate work only with stress, pressure, and burnout. Therefore, there are many reasons why we should wish someone a good day at work. It can be to congratulate him/her on a job well done, give them encouragement to do their best, and make sure they finish the day with a smile.

Or it may be to thank them for the hard work they put in during the week, or just to say "have a great day!" Regardless of what your reason is, these wishes above will help you express how you feel, while also wishing your family member or friend a wonderful day ahead.