Crafting a good subject line for a thank your email after an interview is not as hard as you might think. It just requires a little bit of research and creativity.
A good subject line should be short and to the point, but also catchy so that it gets the attention of the reader. It should also be written in an informal tone, but still professional enough to sound like it's coming from someone who is qualified for the job.
Subject Line for Thank You Email After Interview
1. Thank you for your time!
It's a great subject line to thank the interviewer for spending their time with you. It's the most common one but it's straight to the point.
2. Thanks for meeting with me today!
This is another common subject line for a follow-up email after an interview. It's short and summarizes why you're writing this email.
3. Thanks for the chance to meet you!
It's also a polite and formal subject line to use for your email. It's also a way of expressing gratitude. It can be used in a variety of contexts not only after an interview.
4. Thank you, (NAME)!
It's a great way of expressing gratitude. Simple, short, and personalized. Anyone who reads their name somewhere can not remain indifferent. With this subject line, you can be sure that your email will be opened.
5. Appreciate your time!
With this subject line, you are drawing attention to the fact that time is precious and we should value the time others give to us. Nowadays everyone is busy and when another person is taking their time to give you a chance to find a job is invaluable. You appreciate it and want to show it to them through a thank you email.
6. Glad for the time spent with you today!
The meaning of this subject line is very similar to the above one. It's just a more formal expression.
7. Just wanted to thank you!
It's a more casual and friendly way to express your gratitude. This is a more casual and friendly way to express your gratitude. You don't want to mention anything more, you just want to say thank you.
8. It was great meeting you!
The hiring manager will be glad to see this subject line after interviewing you. If you send your email this way the interviewer will be positively surprised by you. So don't wait and start writing your follow-up thank you email.
9. Follow-up email after the great meeting today!
With this expression, you do not only want to say that this is a follow-up message but also to stand out how unexpectedly awesome this interview has been.
10. Тhank you for arranging today's interview!
Sometimes the recruiter only arranges the interview, and the questions themselves are asked by other employees. In this case, you can only thank the recruiter for arranging the meeting, welcoming you, and making you feel comfortable during the interview.
3 Tips on How to Write an Exceptional Subject Line for a Thank You Email after Interview
1. Show appreciation and enthusiasm: Thank the interviewer for their time and consideration. Make sure that they can see how much you desire this work and that it fits you perfectly.
2. Maintain professionalism: Sincere thank them for the opportunity to interview, but do not ask for a decision or feedback from the interviewer.
3. Be creative: Mention something you learned about the company like "Great time in your lovely office". Or the position that you are interested in "Appreciate the time talking about finance". Or something personal about the recruiter "Just bought Nespresso coffee" if they have offered you that coffee and you want to brag that you bought it because you liked it.
Where to Put the Subject Line?
First, you fill in the email address of the interviewer to whom you will send the thank you email. Then you fill in the subject line, which in our case is "Thank you for your time!" (it stands right after the recipient's name). You fill the body of the email with a mandatory greeting as we used "Hi Sarah" and a mandatory sign-off – "Sincerely". Then you put your name or signature and press the "Send" button.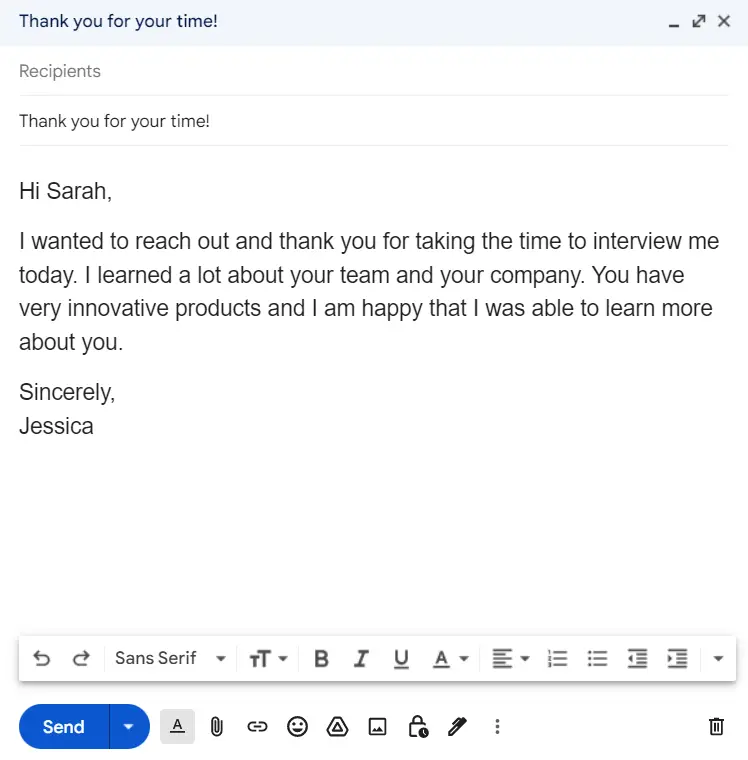 What Do You Need In Your Thank You Notes?
1) Show professional etiquette – You should not use any abbreviations or acronyms that might confuse the reader. Use formal sign-off like "Sincerely", "Yours faithfully", not like "Cheers" or "Best".
2) Don't include thank you cards – This will show unprofessionalism. You're not a child you are taking this job offer seriously and just want to send a thank you message after the interview.
3) Emphasize your best qualifications again – Even though it's past the job interview in your thank you email you can again gently mention again how many awards you have.
Conclusion: Why You Need the Best Subject Line
Maintaining a positive interview experience starts with a simple thank you note. Writing a good follow-up thank you email can make the difference between a person remembering your name or forgetting it entirely. A subject line is the first impression a recruiter has of your application. It needs to be 4-5 words, not very long.