For the next generation, working together with a partner has become much easier since the invitation can be written in a more casual language. While it is true that you can use casual language in many places, there are some conditions in which you'll be successful if you use the formal letter format.
Not only is the formal business letter look more professional, but it also looks more polite and convincing.
Sending your prospective clients or partners a well-formatted business letter will give them a really great impression. Since your business has a much better image, they will be more convinced to hear from you furthermore.
In order to create a successful message in your business letter, you will need to understand some important components of this letter format. That includes the professional format, salutations, clarity of the message, and other components. You must aim to write a letter to someone who will consider the activities in a more professional way.
A polished business letter is indeed an art. But even though you are not an expert on this, you will be successful if you follow the right guide.
Formatting is the success key in your professional correspondence. There is a standard that you must follow to make your business letter look more professional.

In this post, you will understand how to write a business letter, how to format it, and what components you should include.
These are the most important components that you don't want to miss in your professional business letter.
1. Sender's contact information
2. Date of the letter
3. Recipient's contact information
4. Proper salutation
5. Body of letter
6. Closing statement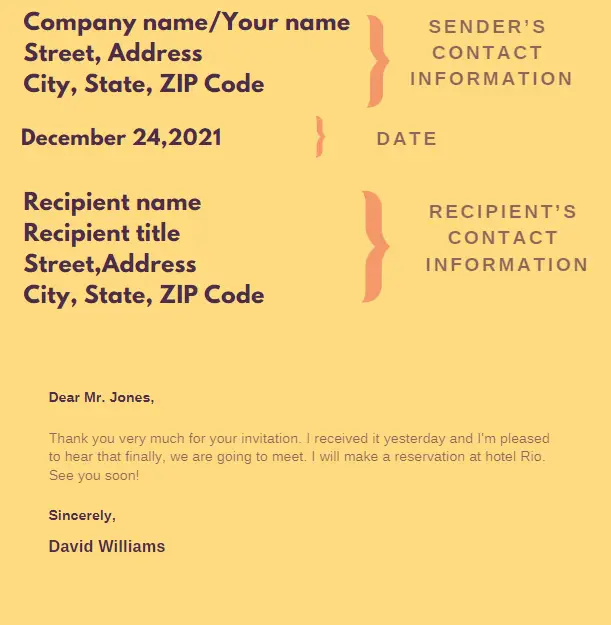 1. Sender's contact information
Your contact information needs to be there. If you are running a business by yourself, you must consider designing your own letterhead for your business. It is easy to find a free template for the letterhead on the internet. You could search for the best one and have it in every lesson. It does not only look professional, but it is also a great way to improve your brand awareness.
If you don't have a letterhead, you could simply insert your address at the top of the page. You don't have to insert your name here. The necessary information to add is your address, city, state, as well as your ZIP code. But you can also add your name/company name if you prefer.
The idea of a name is viable in several situations. For instance, if you want to remind your business prospects of you. There's a chance that you've met them before. Putting your name there will help them to remember you. It is especially helpful if it is the first letter you write to them.
2. Date of the letter
After adding your address or letterhead, you are going to need to skip a line and add the exact date, including the month. Some folks that add letterhead will place the date at the center of the letter. But it is also a great idea to use it on the left to justify. It will all depend on your preferences.
Some professional assistants suggest that the placement in the center will be more sensible when you also add a letterhead. But if you only add your address without a business letterhead, it will be more appropriate to use the left-justified option instead.
3. Recipient's contact information
In this case, you could add the recipient's name, title, and address after skipping another line after the date. To add this information, you could use the left justify option. And for the address of the recipient, you could also do the same, writing it in the left-justified option.
4. Polite Salutation
You can make or break your deal through a business letter depending on how polite you are. Adding salutations to your business letters is one of the best ways to make your message more impactful and meaningful.
You could skip another line and start it with "Dear". Then you must add the title or last name of your recipient.
Some businesses might have done the guesswork, such as "to whom it may concern", "Dear Sir", "Dear Madam", or else. Yes, I said that is guesswork because you simply don't know who the recipient of the letter is. But it was a mistake. I suggest you don't use that because it can put you in a loophole. Some won't even bother to read your business letter.
You will need to be very specific about the recipient who is going to read your letter. So, you will want to find their contact information through professional sites like LinkedIn and find the person you want to talk to. Or, if you don't find their names, you could contact their company and ask for the exact names that you want to reach out for your specific purposes.
You are going to use Mr. and Ms. as the standard titles in the salutation. If you are not sure about the gender of the recipient, you could reach out to the company to ask about the title of the person. Or, if you don't have the answer right now, you could instead use the recipient's full name in the salutation without having to add the title to it. But consider that the latter option is the latest option if you don't get any information about the recipient at all.
5. Body of the letter
The block format for the body of a letter is a common one in business letters.
The format that you need to follow is straightforward and easy. It requires a single space with the left justification of the body text. Skip the lines between paragraphs and there is no need to indent them.
The experts suggest that your message should be dense and clear. When it comes to the length of the message, your business letter should be no more than four paragraphs.
You can break them down into these parts:
The first paragraph is about the introduction.
The second and third paragraphs are about the keys to the letter.
The fourth paragraph would be the last message that consists of a call-to-action, or any other action that needs to be taken by the recipient.
6. Closing
The closing must be good so that the recipient will consider your letter worth their time. You could simply say it with "Sincerely", or "Regards". You may add this closing space before adding your full name there.
There you have it! I hope this article is useful for you. Please share it with your friends who need to write a professional business letter for their partner as well.